55+ Monthly Casino Day!
IF YOU ARE 55+ AND WANT AN AMAZING DEAL TO GO TO THE SAND HILLS CASINO once per month Senior Independent services (sis) has a deal for you!!!
Check it out! $10 only includes: Transportation to and from the casino, $10 in free play, a gold card membership, AND a free buffet lunch!!! Call Wendy to save our spot on the van (limited spots available!) 204-827-2703 OR Email her at sis@glenboro.com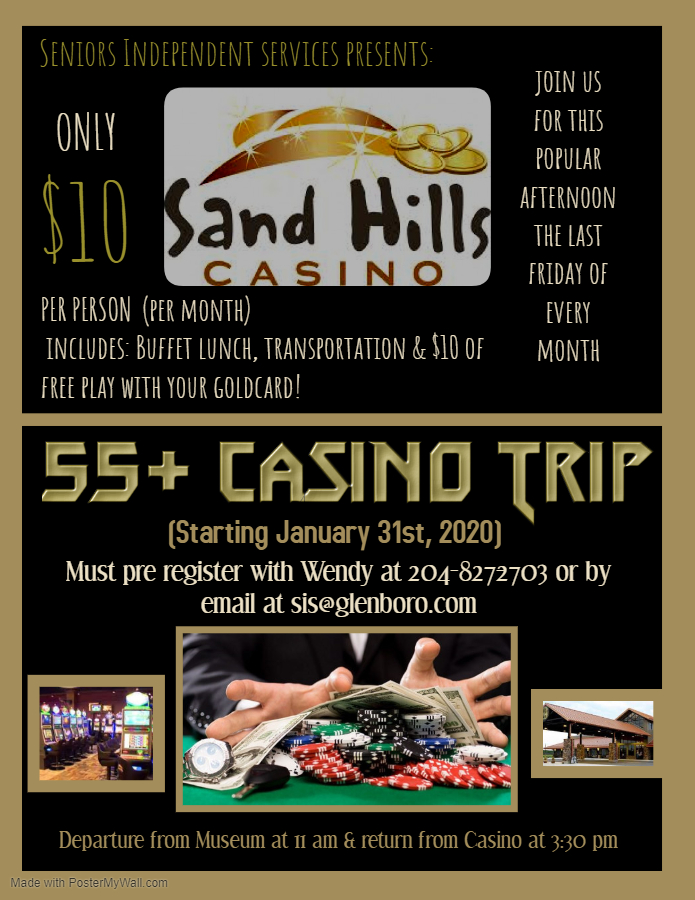 Date(s):
February 28, 2020
Time:
Leaving from museum at 11 am ... Return from casino at 3:30 pm (arriving back approx 4 pm)
Location:
Sand Hills Casino
Presented by:
Senior Independent Services
Cost(s):
$10 fee Includes: Transportation, Buffet Lunch, $10 of free play with your gold card.
Event filed under: Food & Drink | Health & Wellness | Seniors | Sports & Recreation