The Price is Right Live!!!
The Price Is Right LiveT is the hit interactive stage show that gives eligible individuals the chance to "Come On Down" and play classic games from television's longest running and most popular game show. Contestants can win cash, appliances, vacations and possibly even a new car by playing favorites like PlinkoT, CliffhangersT, The Big WheelT, and the fabulous Showcase. Playing to near sold out audiences for more than ten years, The Price Is Right LiveT has given away over 12 million dollars in cash and prizes to lucky audience members all across North America. The Price is RightT is the longest running game show in television history and loved by generations of viewers This on-stage travelling version gives fans the chance to experience the same fun and winning excitement up close and in-person.
REGISTRATION TIME AND LOCATION TBA.
ALL TICKET SALES ARE FINAL – NO REFUNDS OR EXCHANGES
The Keystone Centre accepts no liability for tickets purchased via the secondary ticketing market.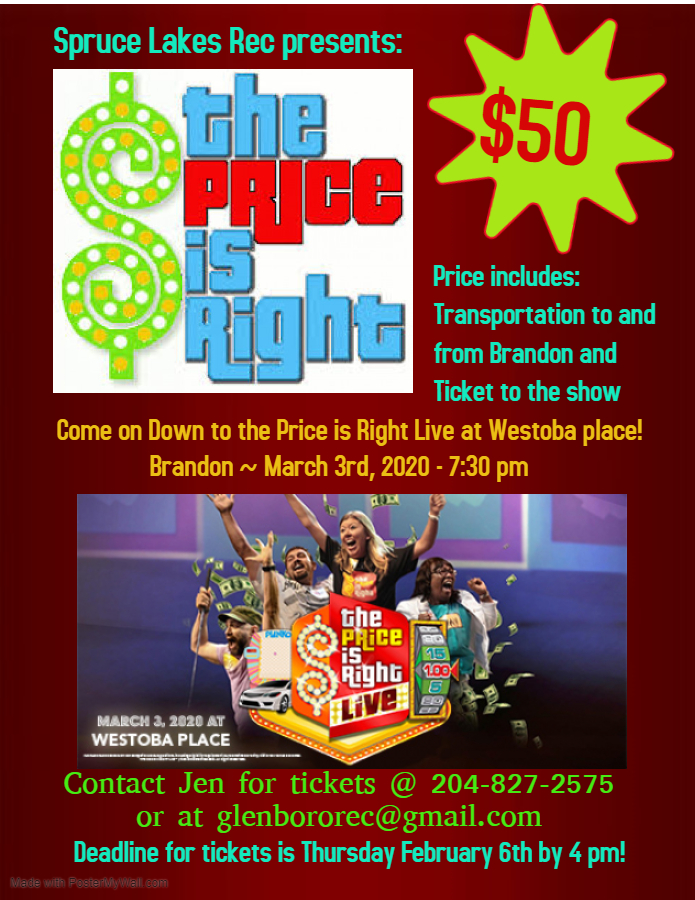 Time:
7:30 pm (Transportation time leaving from museum TBD)
Location:
Brandon MB — Keystone Centre
Presented by:
Westoba Place Brandon (Keystone Centre) in partnership with Spruce Lakes Rec District
Event filed under: Festivals & Celebrations | Food & Drink | Health & Wellness | Music | Seasonal | Seniors | Sports & Recreation