The Glenboro South Cypress Fire Department
The Glenboro South Cypress Fire Department composed of up to 25 dedicated casual (volunteer) members provides fire protection to the citizens of the Village of Glenboro and the Municipality of Glenboro South Cypress. It is a member of the Turtle Mountain Mutual Aid and as such provides mutual aid to the neighboring fire departments on request. Members are alerted to calls by a 911 dispatch via the U Responding alert over their cell phones. Members will respond to the hall if they are available.
The Department is a member of the Canadian Fire Chiefs, the Manitoba Fire Chiefs, and an active supporter of the Manitoba Fire Fighters Burn Fund.
GLENBORO SOUTH CYPRESS FIRE DEPARTMENT HISTORY
The first record of the fire department dates to 1893 with the purchase of the little "Red Wagon". The fire chief was Robbie McRobie and he had 11 men on the fire brigade. Unfortunately, there are no records until 1950 with the incorporation of the Village. At that time, a small chemical unit was pushed on a two wheeled cart and a small water unit that was manually pumped provided the fire protection for the Village. This unit called "Manitoba First " was donated to the Thresher Men's Museum in Austin.
In 1951 a second hand 1942 Ford chassis was purchased, and Lawrie Bombardier of Winnipeg manufactured the fire pump on the chassis at a total cost of $3,000.00. These 42 chassis were upgraded in 1960 with another second-hand GMC chassis. A water truck was purchased in the 1950's and served as a second fire truck. This was a 1955 fuel truck purchased from Mel Dowd.
The Village of Glenboro and the Municipality of South Cypress combined to supply fire protection to the village and the municipality. A 1964 International truck chassis was purchased for $3800.00 to serve as the main pumper truck and this unit remained in service until 2010. As the Fire Department grew, new accommodation was needed and when the rink was built in 1948 a fire hall was included. This was used until 1975/76 when the Municipal Shed at 408 Railway was remodeled to house the fire apparatus. This was used as the fire hall until 2010.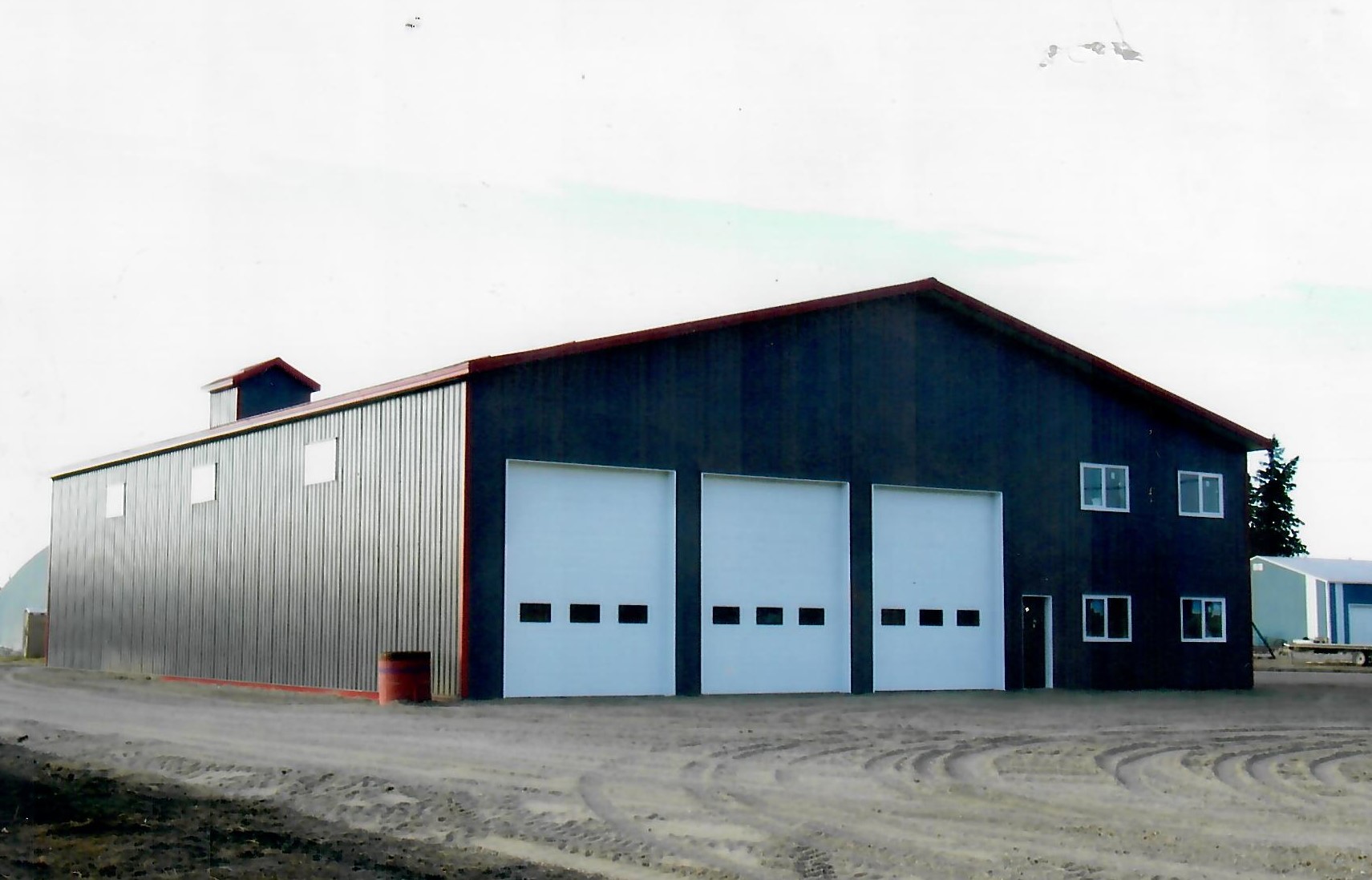 The new Glenboro South Cypress Fire Department purchased a new Thibault pumper in 1976 at the cost of $55,000.00. Increased response calls to motor vehicle incidents required specialized equipment. A portable generator & lighting equipment, Hurst jaws of life and air bags were purchased and placed in the first rescue vehicle, a 1959 Dodge ambulance. This was later upgraded to a 1972 Catalina Pontiac ambulance which served as the department's rescue unit until with the assistance of a government JEPP (Joint Emergency Preparedness Plan) a 1990 GMC 4x4 one ton was purchased. Norbert's Manufacturing designed and built a 14-foot enclosed body to house the rescue equipment and serve as a command center.
A Sterling International chassis with an enclosed pump panel and 1050 gpm pump built by Sterling was purchased in 1998 for about $200,000 to upgrade the firefighting capabilities of the department. A need for a better water supply at fires necessitated the purchase of a 1985 Mac tanker capable of hauling 2000 gallons to supply a fire scene. Unfortunately, this truck rolled returning from a rural fire. The current 1998 Mac tandem axle tanker was obtained from a United States fire department. This unit hauls 2700 gallons of water and came complete with a drop down 2000-gallon portable tank.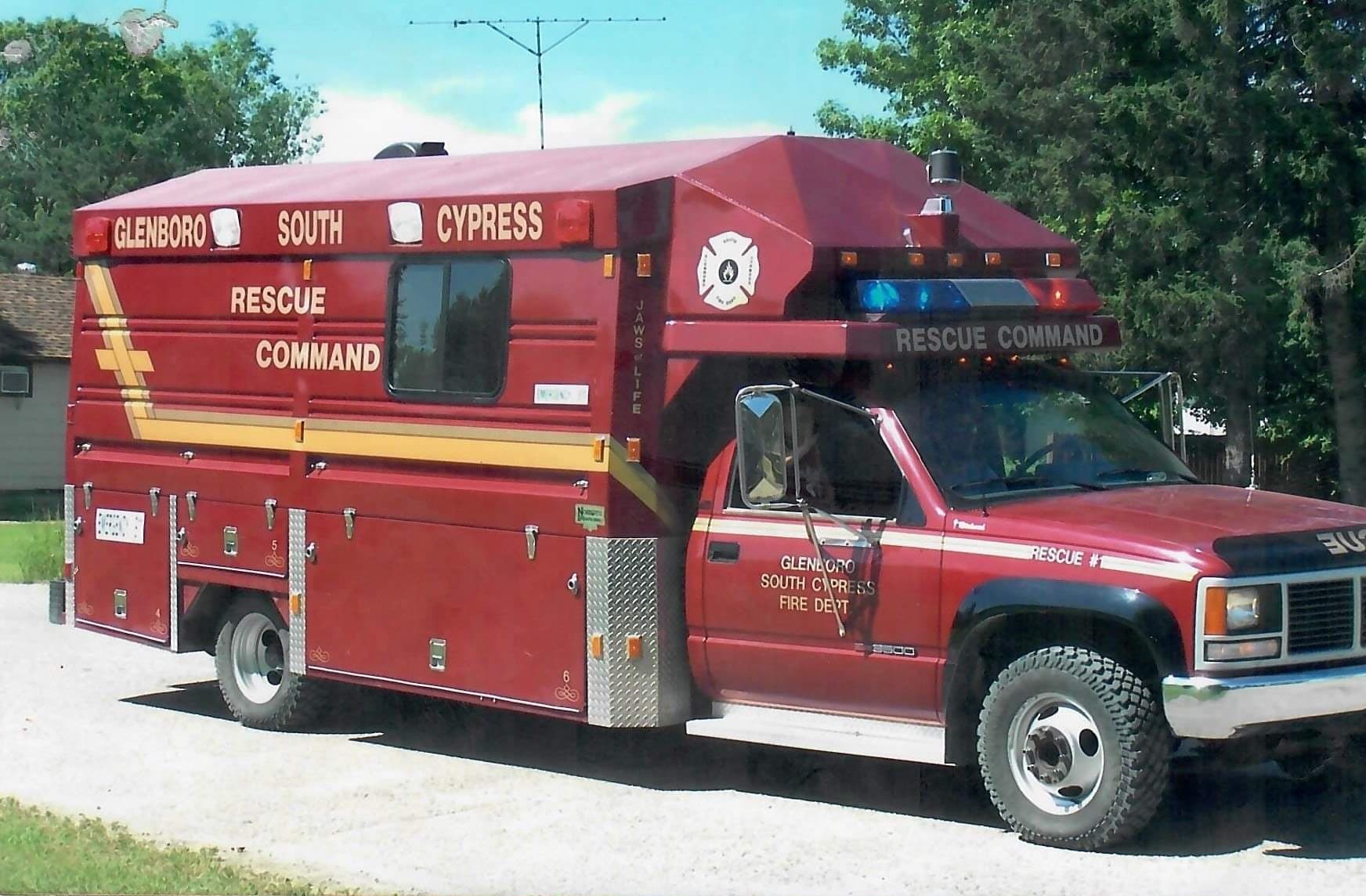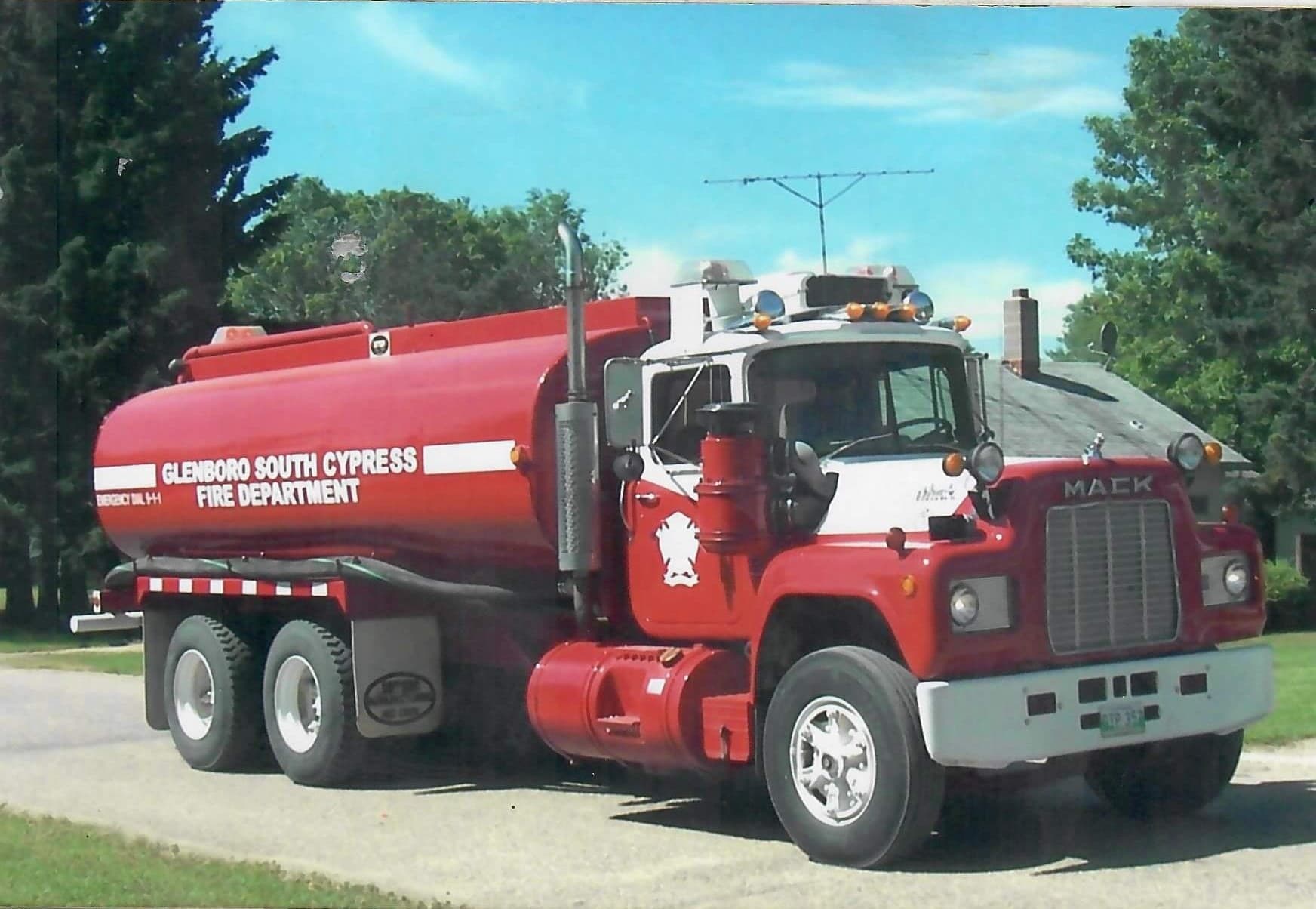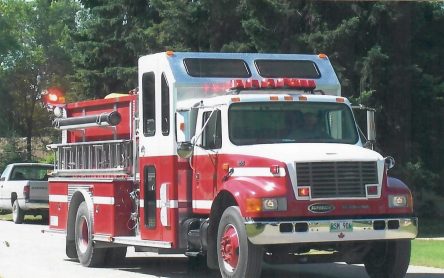 The newest pumper, an International 7900 with an Acres pump and built in foam system was purchased for $ 500,000. It completes the current department's fleet.
Fire Department Units
2017 International 7400 Acres pumper 1450/1000
2019 Ford F550 Stealth Wildland
1997 Mack tanker 2700 gallon
1995 Pierce Rescue Cube Van
2001 Ford F350 Wildland fire Truck
Retired Units
1959 Dodge ambulance
1972 Pontiac Catalina station wagon/rescue
1990 GMC Sierra 3500 rescue
1985 tanker — rolled
1976 GMC Thibault pumper
1965 International L 1600
1998 International Superior Pumper
Present Members
Chief
Deputy Chiefs
Garth McIntyre
Trevor Drinkwater
Braydon Cullen
Captains
Brett Cornock
Kirby Wallis
Turner Jamieson
Firefighters
Brian Haslen
Derek Rouidoux
Eric Fulford
Rob Funk
Kyle Fisher
Mark McGregor
Curt Wtyinck
Alfie Hunt
Colby Cullen
Dustin Drinkwater
Brayden Haslen
Matthew Malyon
Kyle Verstraete
Duties of the Department
Fire suppression & public education
Vehicle extrication & traffic control
Low angle rescue
Hazardous materials operations
Building fire inspection
Training takes place on alternate Tuesdays of each month except for the months of July & August. All practices begin at 1900 hours.
The Golden Rule of the Department is doing the right thing, the right way, for the right purpose.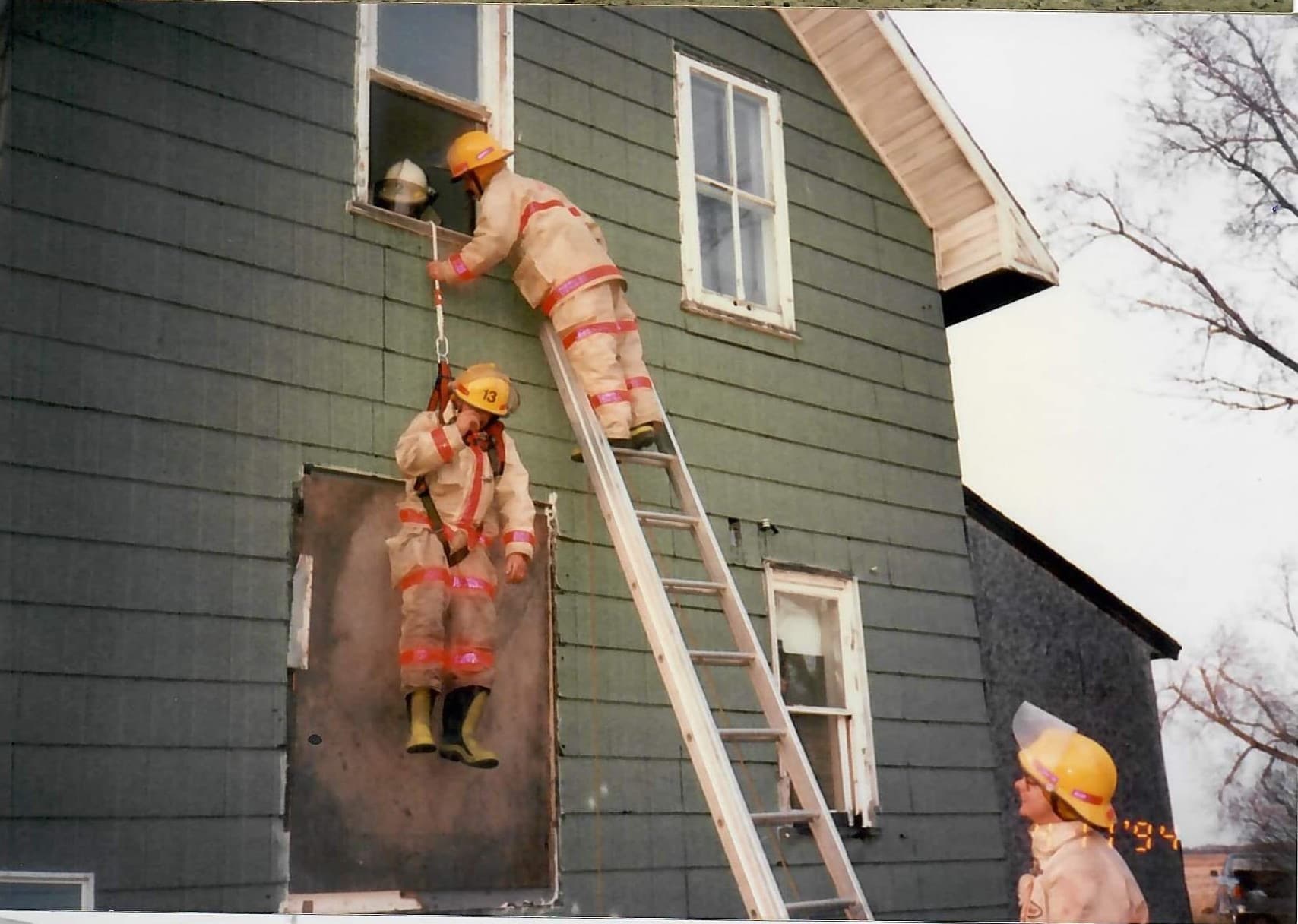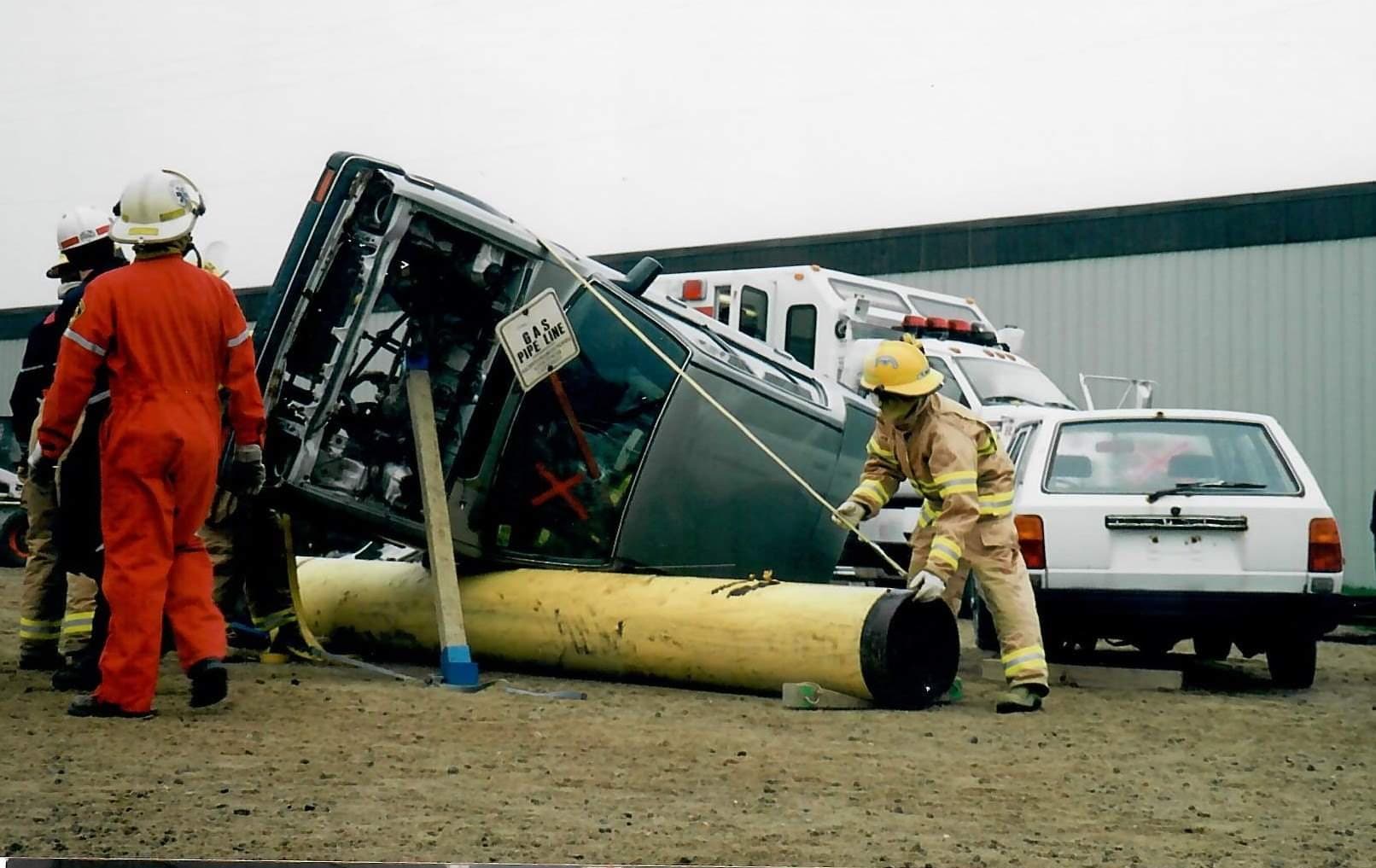 Recruitment
There is always room for more members in the department. Anyone interested should contact any member of the department & give indication of your interest.
A recruitment information package is available from the Municipal office.
The Glenboro South Cypress Fire Department has evolved a long way since the late 1800's. The new fire hall allows the department to house all their equipment in one location and provides space for bimonthly meetings and training.
The Glenboro South Cypress Emergency Preparedness Committee
The Glenboro South Cypress Emergency Preparedness Committee was started in 2005 to meet a municipal requirement to have a committee in place to respond to a major emergency beyond the scope of the local first responders. It is to provide organization and training to handle such things as an emergency evacuation center to handle any displaced individuals requiring accommodation in a time of need or to assist in numerous things that arise in responding to a major incident such as providing additional security, transportation or coordination of resources. 
Our Emergency Operations Center or EOC is located in the fire hall and is the site of our registration for all those who may be displaced. Everyone who is evacuated from their residence is asked to please register at the EOC to be accounted for. This is also an important role of our Block Captain program. 
Our Committee is comprised of the following:
Coordinator – Garth McIntyre.
Adminstration – Tracy Rimmer, Connie Feader & Marilyn Cullen.
Social Services – Brenda Tosh, Cheryl Wytinck.
Security – Keith Anderson, Ron Langan
Resources – Eric Plaetinck, Kevin Sholdice
Public Relations – Andrew Mowatt
Telecommunications – Ken Campbell
Team Captains – Laurie Newton, Bruce Craig
*** If there is anyone interested in becoming a member please contact any of the above***
We will be on the Glenboro website and updates will be done as need arises. Any pertinent information such as tornado threat severe storms etc will be posted for your information. We would remind you to consult with your Spruce Lakes Emergency Quick Reference guide for a checklist for the emergency. If you do not have one they are available at the municipal office or the library. We will also use Facebook as another source for keeping the public informed! 
Glenboro Block Captain Program Update  
Traditionally, October has been designated as "Once Around the Block" month for the local Block Captain program. The program was initiated in 2014  as an organized response to a catastrophic event. In short, it involves Block Captains, ( there are usually 30 of them), checking on the residents of their block if there is an emergency as determined by the Glenboro Emergency Response Team. When they have finished, captains phone their findings into one of the two Block Captain Coordinators who will be stationed at the firehall. The coordinators record the information and pass on major concerns to the leader of the Emergency Response Team who decides on what action should be taken. Block Captain Coordinators also compile a list of those blocks with no safety issues or minor issues so that our excellent emergency response front line workers can focus their efforts in the areas of greatest need. At this time we have a vacancy in one block should anyone wish to volunteer! You don't need to live on the block although it is an asset .  Just contact one of the Block Captain Coordinators at the numbers listed below.
In an effort to be as efficient as possible, Block Captains contact the residents of their block once a year, (October), and update information that would be useful in an emergency response. This includes a series of questions such as:
How many people live in the residence?
Do you have a place to go in the event of an evacuation?
Would you be likely to need transportation or other assistance in the event of an evacuation?
Do you have a pet who might need an alternate place to stay during an evacuation?
Are there any other things that you would like us to know? ( This question provides an opportunity for residents who may have medical conditions, mobility issues, or who require medication on a regular basis, to share this information if they wish.)
There are a few more questions that will be asked but residents are not obligated in any way to answer. It is entirely their choice.
And so that brings us to the last two years with the pandemic and its varying restrictions. Before the end of the month, Block Captains will do their best to contact residents and update information while maintaining social distancing and any other current protocols related to Covid-19. Contact may be in the form of a phone call, an email, a chat on the street, or a home visit from at least 2 meters away. If your Block Captain has been your neighbor for years and knows that there have been no changes to your situation, you may not be contacted.
To find out your block number, a map of the town showing this information will be posted on the community website, (glenboro.com). The website will also have a list of the blocks and the captain for each. If you have any questions or would like to know more about the Block Captain program or if you are unsure of who your Block Captain is, you can call one of the Coordinators: Bruce Craig, ( 827-2893, Cell: 204-526-7083) or Alexis Einarson, (827-2723, Cell 204-856-9302).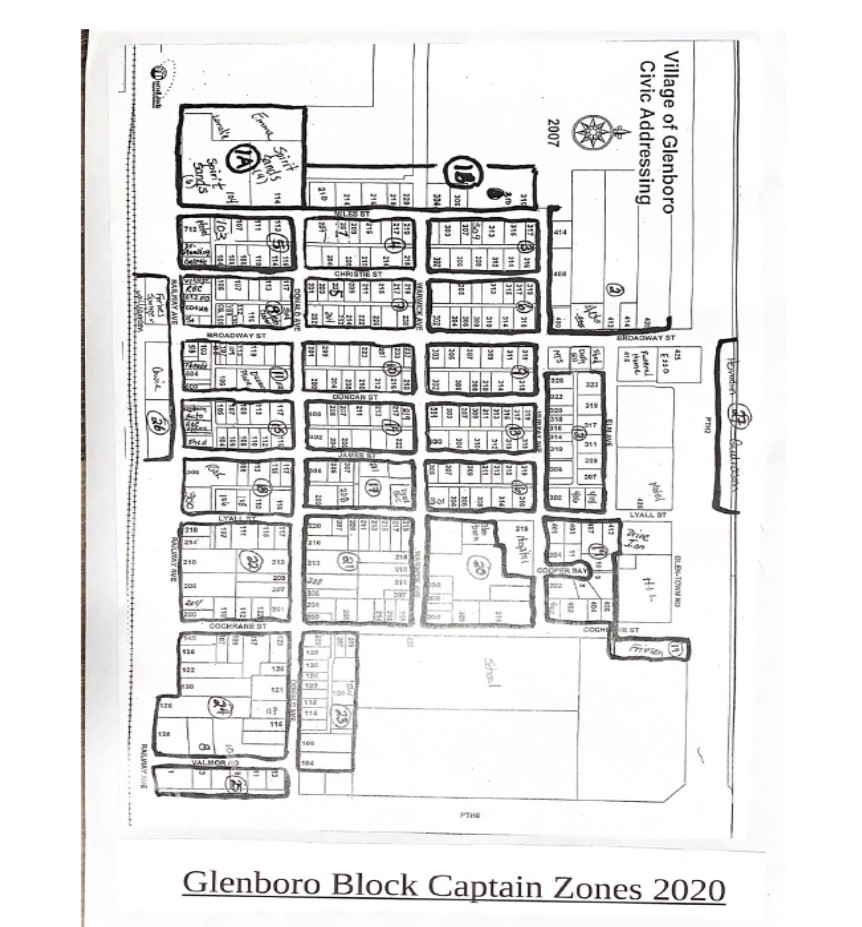 2021-2022 Glenboro Block Captains
Block                              Captain
1A                                 Linda Rankmore
1B                                 Garry Haasbeek
 2                                   Mike Elliott
 3                                   Jeff and Christine Dalik
 4                                   Blanche Carpenter
 5                                   Devin Jarvis
 6                                   Kathy and Matthew Holmes
 7                                   Nora Ediger
 8                                   Giselle and Ron Lussier
 9                                   Andrea Mowat
10                                  Pam Sawatzky
11                                   Brent Pringle
12                                  Henry Booy
13                                  VACANT AT THIS TIME
14                                  Jim and Donna Rawlings
15                                  Jade Ming
16                                  Shawn Urquhart
17                                  Ryan Diehl
18                                  Chanda Funk
19                                  Jenna Cullen
20                                  Dawn Elliott
21                                  Laurie Newton|
22                                  Mel and Colleen Christie
23                                  Vera Bjornson
24                                  Cheryl Wytinck
25                                  Myrtle Nichols and Joy Lalonde
26                                   Dave Springer
27                                  Angie Gudnason
Co-ordinators:
Bruce Craig           Home: 827 2893  Cell: 526-7083
Alexis Einarson     Home: 827-2723  Cell: 856-9302
Substitute Co-ordinators
Laurie Newton
Wanda Jefferies